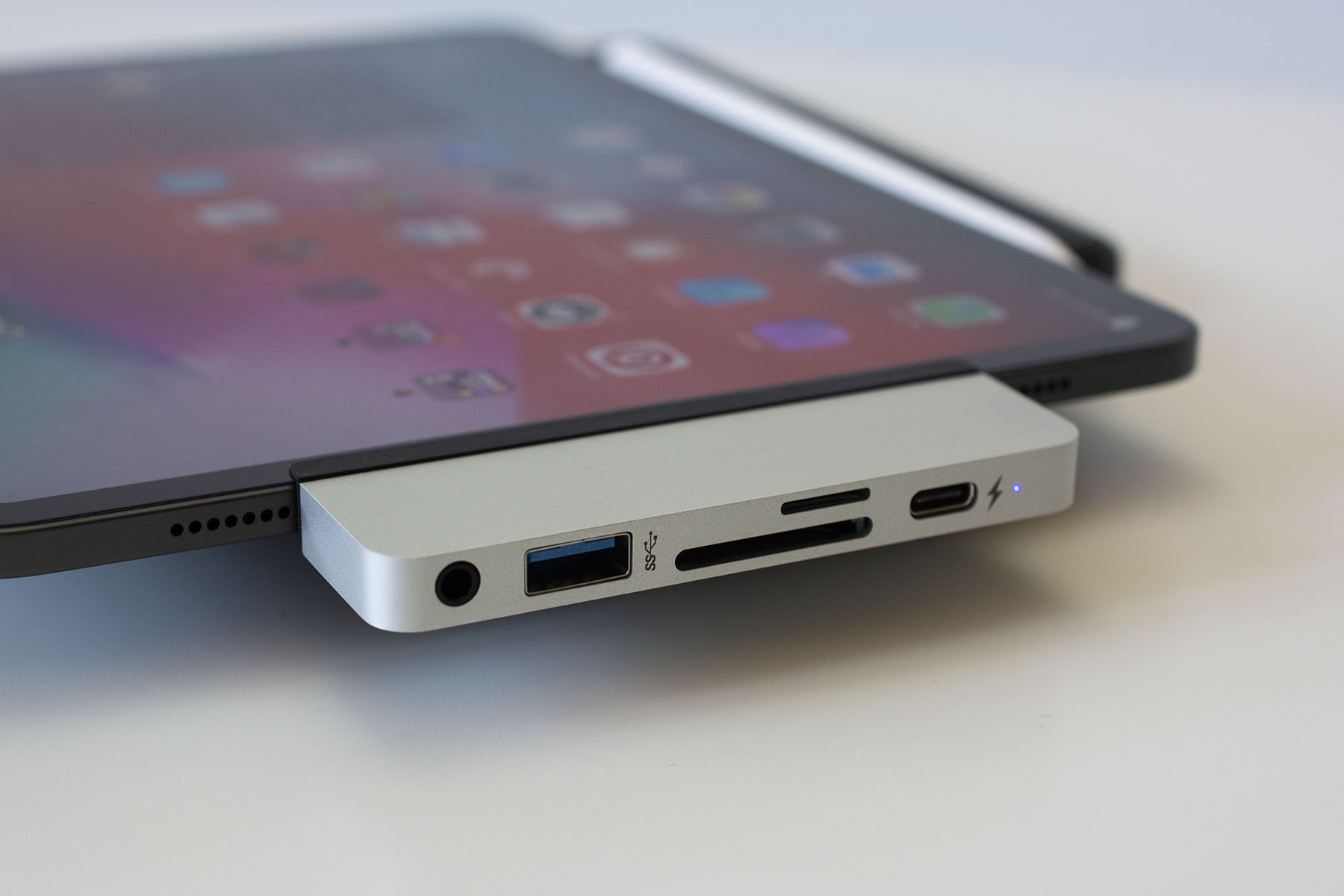 Table of Contents
MAGIPEA Tablet Stand Holder
Accessory Organizer w/BIONIC®
ThinkGeek JOYSTICK-IT Arcade Stick for iPad
Steel Series Nimbus+ Wireless Gaming Controller
Corsair HS70 Bluetooth – Wired Gaming Headset with Bluetooth
One Last Thing…
Gaming on any platform requires the right accessories and equipment to enable outstanding performance as well as comfort. For this reason, there are several worthy iPad Pro accessories that you need. Here are some awesome hand-picked iPad Pro accessories for gaming.
One big challenge while playing a game on an iPad Pro is that your hands are fully occupied. You need more time and space to touch the screen and perform the necessary gestures for the game. But holding on to the tablet limits your hand's free movement. To avoid this issue, you should invest in the MAGIPEA gooseneck tablet holder.
The stand can be attached on any flat surface like a nightstand or a tabletop, so you can play anywhere you like without being restricted in one spot. You can even clip on the stand on your bed's hardboard to play games or watch something on the iPad. The "gooseneck" design of the stand increases its flexibility, allowing you to tilt the iPad Pro and adjust it in landscape or portrait mode.
Gamers will often find themselves stuck in a pile of hard drives, cables, power banks, earphones, mics, and much more. Declutter your gaming equipment with this Incase Accessory Organizer. The organizer is available in a variety of beautiful colors, so you can match it with your gaming gear. It comes with multiple compartments and mesh pockets inside that you can use to store hard drives, earphones, and charging cables.
Its compact design allows you to play games on the go. Lastly, the most notable thing about this organizer is that it's made with recyclable materials and processed plastic waste. It is environmentally conscious, sustainable, very well-designed!
You can up your gaming skills by adding a physical joystick on your iPad Pro. You can use this ThinkGeek Joystick for various games, particularly arcade games and racing games. It is extremely compact and convenient to use, thanks to its simple design. It also has a very sleek appearance, with its aluminum construction and silver finish that will make it blend in well with your iPad Pro too. You do not have to worry about the joystick leaving behind a sticky residue or scarring your screen. It is easily removable and movable according to your convenience.
You do not need to have an actual gaming console to have the ultimate gaming experience. Even with your iPad Pro, you can enjoy full-scale gaming controllers. The SteelSeries Nimbus+ controller connects to your iPad Pro wirelessly and has an excellently long battery life of up to 50 hours on a single charge.
You will be able to enjoy the first 4 months of Apple Arcade free of cost with this Nimbus+. Lastly, the controller comes with an iPhone mount that lets you attach itto iPhone for mobile gaming too. This makes it ideal for gaming when you are traveling by road when bumpy roads cause instability.
Even though a headphone does not necessarily affect your gaming performance, it does help your gaming experience. Good quality audio feedback is essential to support your visuals and allow you to enjoy the game to the fullest. Especially if you are playing multiplayer games, you need a good pair of headphones.
For gamers using iPad Pro, the Corsair HS70 Bluetooth headphones are an amazing investment. These headphones can be connected to your iPad Pro via Bluetooth, but can also be simultaneously connected to any other device such as your PC or mobile through the 3.5 mm jack. It has a powerful 50 mm driver, along with 30 hours of battery life and a detachable unidirectional mic. The ear cups are cushioned and the headband is adjustable for a more comfortable experience.
One Last Thing…
While most of the iPad Pro accessories will be heavy on your pocket, there is one essential thing you need for gaming that will not cost a lot. AT&T internet prices are affordable and worth the reliable speeds and extra perks that you eat with each internet plan. You can opt for standalone internet services or go for AT&T bundles to complete your entertainment and communication setup at home. You will find budget internet speeds, as well as a high 1-gigabit fiber internet package that will ensure a seamless gaming experience with your iPad Pro.