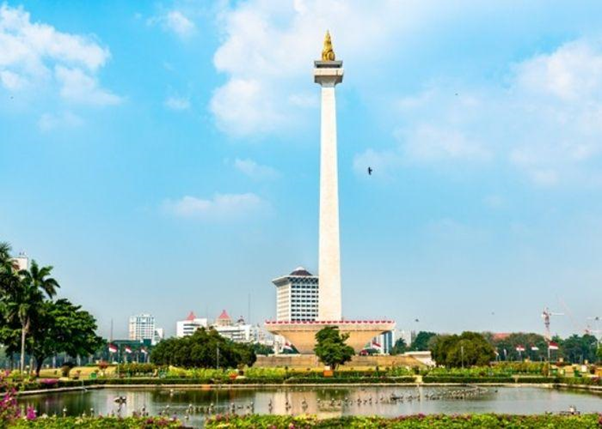 Source: www.indonesia.travel
As the capital city and the administrative center of the Republic of Indonesia, Jakarta is the largest metropolitan city in Southeast Asia. Behind the congestion and population density, Jakarta also offers various vacation spots that are a pity to miss. For more details, here are some recommendations.
National Monument
The National Monument or Tugu Monas is a building that rises about 32 meters high. This monument became a symbol of the independence of the Republic of Indonesia and became an icon of the city of Jakarta. Initially, Monas was established to commemorate the services of heroes who risked their souls and bodies for Indonesia's independence. Initiated by Ir. Soekarno, Monas has a crown of flames made of pure gold. If you want to know the history of the Indonesian people, you can visit Monas as the main destination of your vacation in Jakarta.
The entrance ticket price is quite affordable, only Rp. 5,000 for adults, Rp. 3,000 for students, and Rp. 2,000 for children. Meanwhile, if you want to use the elevator to get to the top, you will be charged an additional Rp. 10,000 for adults and Rp. 5000 for children and students.
Beautiful Indonesian Mini Park
A tourist attraction in Jakarta that is suitable to be used as a vehicle for recreation and education is Taman Mini Indonesia Indah or TMII. This tourist spot is perfect for all walks of life. Starting from children, teenagers, and adults, you can see traditional houses from Sabang to Merauke. It is not wrong if TMMI is called the miniature of Indonesia because there are several parks, museums, various places of worship, theaters, and other fun recreational facilities. This tourist spot with an area of ​​150 hectares is located in East Jakarta and operates every Monday to Sunday. With different ticket prices for each ride.
Fantasy World
Dunia Fantasi or Dufan is also one of the entertainment places in the Ancol Dreamland area, North Jakarta, that must be visited. There are quite some rides available at Dufan and the names are adapted to the theme of a particular place. For example, there is a European area that carries a European-style theme far away so that visitors can feel the sensation of the blue continent. It is intended to increase the imagination of the visitors and bring unforgettable excitement. Due to the myriad of rides offered, Dufan is also one of the attractions for children in Jakarta. Children can explore exciting rides and play to their heart's content, with the ticket prices offered are pretty diverse. The regular ticket price is IDR 190,000 for weekdays and IDR 270,000 for weekends and holidays. Premium tickets are priced at IDR 350,000 for weekdays and IDR 450,000 for weekends and holidays. Meanwhile, the annual pass ticket extension is IDR 350,000, which is valid for weekdays and weekends.
Ragunan Zoo
The Jakarta tour with the theme of flora and fauna is the Ragunan Zoo, located at Jalan Harsono No. 1 Ragunan, South Jakarta. In this zoo, there are about 270 species of animals and 171 species of flowers and plants. The first zoo in Indonesia has an area of ​​140 hectares and was built in 1864. This tourist spot is an alternative vacation spot that is suitable for families, especially during holidays. Shaded by about 50,000 trees, making this tourist spot cool and shady. So you will for a moment be separated from Jakarta's air pollution outside. You can visit this zoo at a very affordable price, iit will be charged Rp. 4,000 for adults and Rp. 3,000 for children. The entrance ticket price does not include costs for certain rides such as horseback riding, traveling carriage, camel riding, and others.
Ocean Ecopark
Ocean Park is one of the tourist attractions in Jakarta that offers the sensation of "back to nature." The location is still in the Ancol area, precisely Jalan Lodan Timur No. 7, Ancol, Pademangan, northern Jakarta. In addition to being often the location for gigs by famous singers both at home and abroad, this Ocean Ecopark also provides thematic and fun rides. There are about four themes: Eco Care, Eco Art, Aco Energy, and Eco Nature, with an entrance ticket price of IDR 25,000 per person, not including vehicle parking fees.
Eco Park is an ideal place for recreation because there is an educational process where children can interact directly with nature, such as planting and others. For those who want to bring souvenirs, there is also an eco-market that can be visited.
Whether your trips take you to a long stroll on beaches, delicious cuisines, relaxing spas and resorts or urban attractions, extra research will give you the best experience for your visit. Get to know more about Jakarta by visiting Wonderful Indonesia.