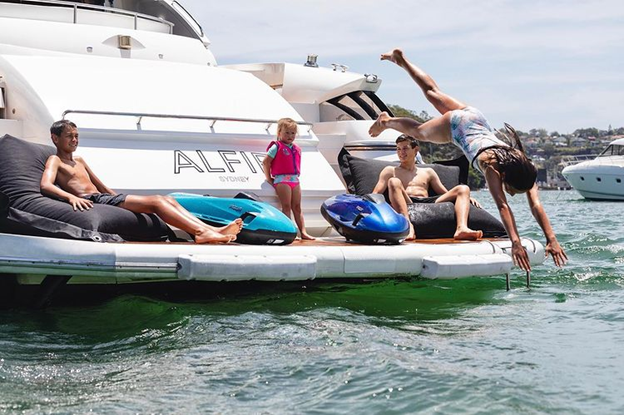 With lockdowns quickly becoming a thing of the past, this Easter presents an opportunity to connect outside of the four walls of the family home. Between the sandy beaches, hidden coves and spaciousness of each luxury vessel, MV Alfie & Co can give you the boat to create a memorable Easter.

To celebrate Easter on a yacht is to doff the hat to one of the most significant long weekends of the year. Sailing aboard Good Friday and returning Easter Monday will ensure you and your family can recharge appropriately. 
Moreover, a luxury boat provides a platform for deeper connection and a return to the simpler pleasures. After two long years of enduring lockdowns, collecting seashells, snorkelling and finishing a book on the deck might be the perfect antidote to the digital overload we've all been exposed to.

With long-weekends, it's best to leave the preparation and stress at home. Because they're shorter than most traditional summer holidays and occur during the workweek, the walk on and walk off services are essential. 
MV Alfie & Co have designed their services so you won't have to lift a finger. This way, you and your family can enjoy diving into the crystal blue water and a number of hidden gems off the coast unbothered. Combined with an industry leading captain and crew, you can explore at your own leisure knowing a delicious meal is waiting for you at sunset.

Given the religious and culinary significance of Easter Sunday, MV Alfie & Co are experts in customising the experience. You might want a miniature Sunday feast or an off-the-beaten-path Easter egg hunt for the kids. Either way, MV Alfie & Co can help. Between their expert crew of event managers, captains and hospitality staff, a bespoke boating experience is available for even the most eclectic of tastes. There is also a healthy variety of vessels that cater for more guests if need be.

For instance, the V65 Princess can seat 6-10 people allowing friends, family and other small groups to have a memorable Easter experience. The 65-foot luxury vessel is the picture of opulence and might even entice you into owning one. The "Estate Room" comes fully equipped with a Queen bed and ensuite whilst the VIP twin cabin is an ideal place to rest for the lucky visitors.
Let's not forget about Bruce. This is 75-feet of luxury and comfort as it boasts 3 bedrooms with space to sleep 6 and a roomy indoor dining area. If you'd like to entertain outside, a dining area has been fitted on the deck.

MV Alfie & Co has been regarded as a specialist in luxury boating. As the demand for family holidays on the water continues to surge around Australia, it's recommended to book your Easter holiday now. For inquiries, please feel free to get in touch via the form on the website.