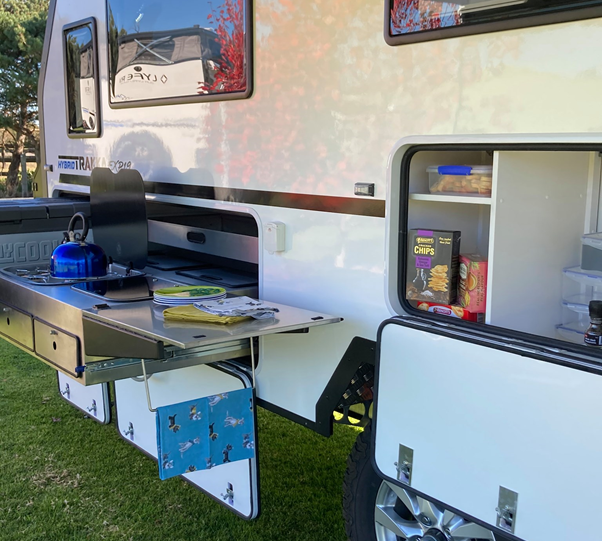 In essence, a luxury caravan is a bedroom on wheels, complete with a kitchen and often an ensuite. In comparison with staying in hotels or resorts, caravanning allows you to bring your own home away from home. The space you create is personalised to your preference and filled with your favourite things that make you feel comfortable and safe, just like home. In short, it's the perfect fusion of familiarity and adventure.
Shopping for a caravan can be a tricky process, especially since there are so many models and brands to choose from. Thus, it's not surprising people pore through new caravans at shows and in sales yards, searching for ones that suit their needs. In cases where people cannot find what they're looking for, they pivot towards building a custom caravan to suit their needs exactly. 
Yet the question remains, why is custom-built beat off-the-shelf purchase?
Custom-built caravans
With the custom caravan concept, you can design your own caravan based on the standard features, and from there, it's completely up to you to decide how many additional features are to be added. From the colour scheme and layout of the interior to the suspension and manufacturing, Lyfe RV can design the right caravan for your needs, terrain, and performance.
Benefits of a custom-made caravan:
Discover all the latest features
You can customise your caravan with all the basic features available and then add on additional features for comfort and style. 
Premium materials
A custom caravan from Lyfe RV is designed and manufactured with the highest quality materials. Based on your needs, you can choose the style, size, form, and all components knowing they are built to last. You will also be able to integrate environmentally-friendly appliances into your caravan.
Create your own interior design
You can create your one-of-a-kind, beautiful custom caravan by incorporating the latest colours, designs, equipment, fabrics, and finishes. Among other things, you can choose the upholstery, lighting, appliances, dual-zone fridge/freezer, and the functional front toolbox with barbecue slide. 
Be budget conscious
To ensure the caravan suits your budget, you can talk to the expert luxury caravan manufacturer Lyfe RV before designing a custom caravan to get a full picture of what it will cost. You'll find luxury features that you never knew were possible at an affordable price.
'Stock standard' caravans 
Generally, people find that choosing a caravan from a standard range does not meet their needs, especially those with growing families. As a result, they attempt to sell their caravan to purchase a more suitable vehicle as they are often not satisfied with the 'the shelf product. 
Buying a caravan
'Caravanning' is a real choose-your-own-adventure lifestyle. Those starting out are often unprepared for just how many variables there are to consider to spend wisely, travel happily, and, most importantly, stay safe. Those in the market for a caravan have access to a pre-purchase checklist provided by the Caravan Council of Australia (CCA). Before you start shopping and before you buy, you should consider every question. For instance: 
Which size is appropriate? How many beds? Does it go off-road? Does it have towing capacity? Would you be able to afford a new tow vehicle? If so, what type? 
In summary
The quest for that perfect luxury caravan is exciting, and Lyfe RV aims to play an important part in getting you there. Specialising in manufacturing well-designed, high-quality, and innovative RVs that are handcrafted rather than manufactured is what Lyfe RV does best. 
Off-the-shelf doesn't give you the flexibility that you need. Custom-built does. Compare it to having full control over your new home and how it looks, hums and operates. It isn't any different for custom caravans.